Check these NEW opportunities for brands on Instagram
Tsvik
Instagram now becomes one of the strongest social media channels, especially, in terms of generating leads and getting fast sales. Many online stores even have their business right inside Instagram. It is very handy as users don't have to exit the store and get distracted from their initial purchase.
According to statistical reports, more than half of companies worldwide plan to increase the total budgets for influencer marketing in 2019. 90% of them realize that Instagram influencers provide very important traffic and brand channel from a strategical point of view.
Why did it happen? How did Instagram become so powerful?
Well, it all happened from a very easy-to-use interface. It was made for smartphones initially while Facebook, for example, was first being used on laptops and computers.
Moreover, Instagram responds directly to the interests of modern people. First, it was based on sharing instant pictures and current events. It was quite handy to use it for sharing with friends. Later on, it worked as an important instrument for advertisers to build their social media presence and to promote their business. Starting with professional photographers and small private businesses, it became as global as most companies have now an Instagram business profile.
With time, video content gains more and more popularity and success. Sharing videos work the same as sharing photos, however, videos are more consistent and emotionally focused. Instagram offers the best capabilities to easily show videos of different sizes, to optimize and edit them. Therefore, it attracts even more.
Instagram offers new options for business growth. Take a look at a few updates that will make it even more powerful and attractive.
Branded content opportunities for companies on Instagram
The branded content tool was live in 2017. Since then, companies gained great exposure due to influencers' activity on their brands. The branded campaign has been expanding steadily since then. Nowadays, more people can participate in and promote popular brands.
Instagram announced a new ad format that will be coming out soon. It will allow more ease to amplify content from influencers.
How does it work? This functionality can turn influencer posts into Instagram ads.
It has been long practice on Instagram when brands used influencers and their profiles to promote their products and services as random posts. Some posts get a really great business exposure which makes it favorable to use them for advertising. Besides the influencers' organic reach, you may acquire relevant paid traffic from Instagram.
In 2019, Instagram will be introducing new brand opportunities by avoiding major limitations. It helps to magnify brand outreach.
However, branded content ads are currently not available to all businesses. The availability will though increase by the end of 2019. More companies will be able to broadly use the new Instagram functionality.
Instagram Posts and Instagram Stories are the most effective ad formats across most advertisers.
Checkout on Instagram
Another fantastic update has already been released on Instagram. Now, you can buy anything you like directly on Instagram. No need to be transferred to the online web store page.
It is a happy improvement not only for the user experience of individuals but especially for businesses that would like to keep and increase their leads and sales from different social media channels.
How it actually works now?
As soon as you are about to view a product on a brand's post, you can tap and see a "Checkout on Instagram" button. Further steps can be done within the same interface while you are selecting size and color. You may also proceed to payment without leaving.
The only thing you will have to do in order to complete this purchase is to introduce your email, name, and all billing information.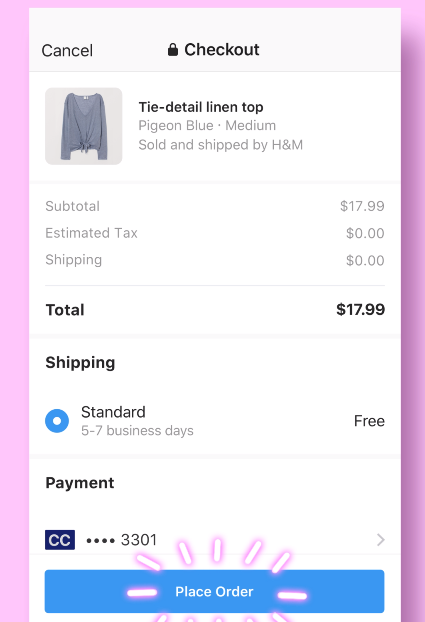 More breaking news
There is some other news about Instagram that will favor marketers around the world.
Most likely,  we will soon get the opportunity to answer Instagram Direct messages using Facebook Page interface. It makes it easier to communicate about the business and allows faster performance.
This idea is great for time-saving as most brands have both – Instagram account and Facebook Page. The connection between them helps run a business more effectively and reach higher goals.
Main benefits from Facebook and Instagram connection
The unification of Facebook and Instagram will generate a global cross-platform that has never existed before;
Here comes the ability to connect from various devices or multiple apps at the same time;
Customer support and further lead generation reach a new level and productivity due to this fantastic merge;
The "unified" messaging system is a splendid update that will be soon available for ANY business on Instagram. It was announced straight after another breaking news about the merge of 3 powerful apps – Instagram, Messenger, WhatsApp.
Some businesses say that it will be useful to keep messengers all together, especially on busy days when it is difficult to find spare time and manage clients from different channels, separately.
This initiative goes straightforward as a part of a big plan to bring together the three major apps worldwide. The project is still at the initial integrating stages. It should be completed by the end of 2019 or at the beginning of 2020.