Extensive Guide About Setting Up Snapchat Ads
Tsvik
Now when Snapchat is one of the biggest chat applications in the world and probably the most powerful in North America and Australasia, it is time to use it for advertising purpose and to build up your brand awareness.
As any chat app, the level of conversion from Ads is relatively low but considering the number of people using Snapchat on a daily basis, you can get a pretty decent number of your Ad visitors.
So, the very first thing to do before you actually start with Snapchat Ads is to create your Business account. Of course, this is addressed to Snapcat users only as without having even a personal account, you will not be able to proceed with advertising.
I bet you have been using Snapchat for a long time. That is why what you do now is just convert your account to a business one within a few seconds.
How to set up your Snapchat business account
 Add a business name for which you will be running advertising;
Check your name and surname;
Put a country and currency that will be used for payments;
Press "Continue" to agree with terms and conditions.
On the next step, you will be offered some free credits you can get by spending $50, $150 or $350 on advertising. You can get this offer or just skip.
Now it's time to actually work on your first Ad and show it publicly. Making an Ad on Snapchat is very easy to do and similar to creating Pinterest Ads or refining Instagram Ads.
Simple steps to create a Snapchat Ad
Make sure you have an idea about your first campaign on Snapchat. What are you looking at? What would you like to achieve? How big is your budget? Why did you choose Snapchat as an advertising platform?
Choose a goal objective for your campaign
As you usually do during the AdWords campaign set up, you should choose your main focus.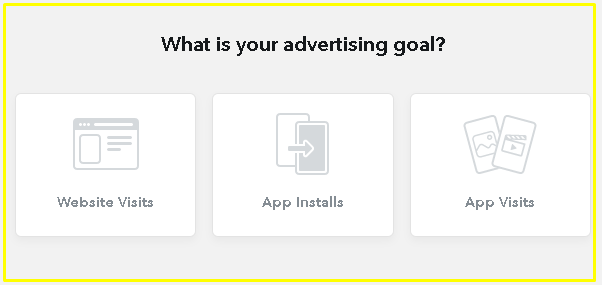 You have 3 options:
Website visits: choose this if you are running advertising for your website and you would like to increase your overall website traffic.
App visits: pick this option if you want to do app promotion and make it acquire traffic fast.
App installs: this is your option if you are looking uniquely for app installs.
Let's say, I need to improve my website's traffic, so I choose option #1.
Choose your website and/or import photos
If you pick option #1, you will need to introduce your website URL (the page where your Ad will be linking to) and proceed to your first Ad design.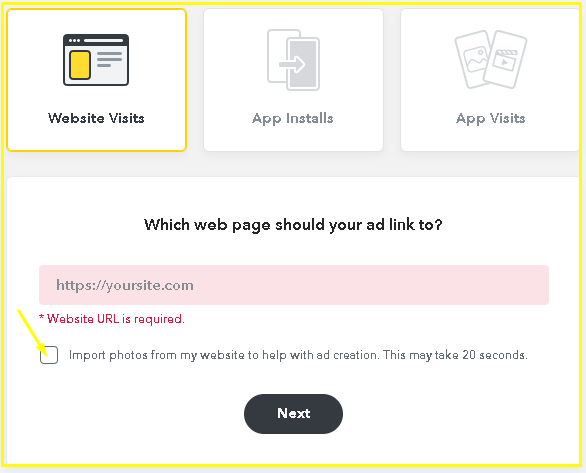 It is a fascinating process as mow you may pick the best representation of your website for potential visitors. You may also tick the option to import photos/video straight from your website. It might be helpful if you're not sure with styles and visualization.
Create a Snapchat Ad design
Well, now you leaving the "Objective" section and you go straight to "Design".
If you didn't pick the option to import photos from the website, it is time to set your pic or video.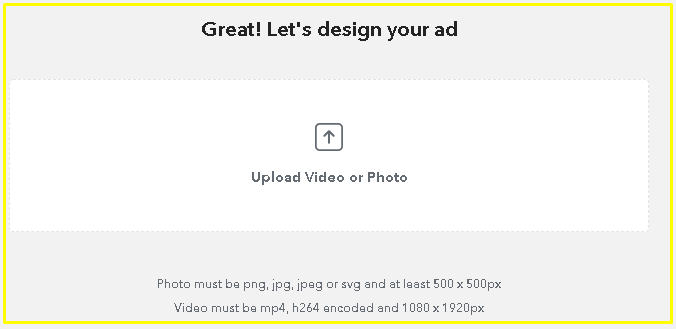 Pay attention! All pictures should comply with Snapchat requirements. It means the format is .png, .jpg or .svg and the dimensions are 500*500px. If the image is not within these parameters, Snapchat will simply not allow showing it.
As for videos, they are required to be mp4 or h264 and only within 1080*1920px.
Add headlines for a better visualization
Now when you are fully ready with information and you chose the best pic for your Ad, you proceed with adding some text to engage your potential audience.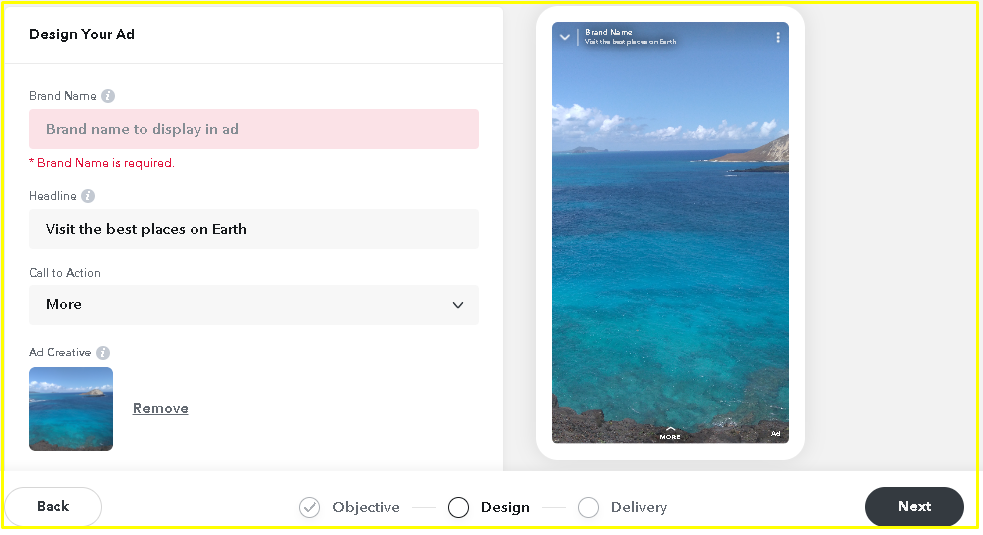 In this board, you can add your Brand name and a catchy headline. This is a very important moment in your Ad creation. You are already in the "Design" section facing "Delivery" – the final step in this process.
A good thing to know, Snapchat Ads provide a set of call to action buttons you can use on your Ads: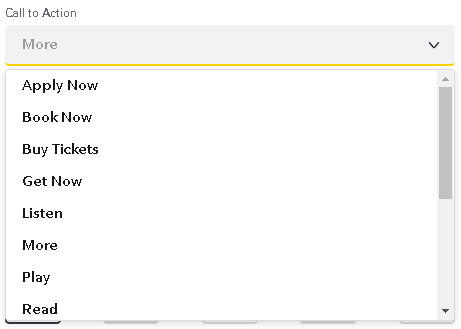 A call to action expresses what ideally your visitor is searching for. By picking the right call to action, you guarantee a better conversion of your Snapchat Ads.
Set the Target Audience for Snapchat Ads
Another important factor influencing how your Ads work on Snapchat is audience selection. The advertising platform provides quite many options to define the right target audience.
First of all, you choose demographics, location, age, and gender. On the ride side, you will investigate how big your audience is. It is recommended to have a modest audience but big enough to get reasonable clicks and conversion. Voluminous audiences don't work really well as for conversion and precise targeting. On the contrary, really small audiences don't provide extensive clicks.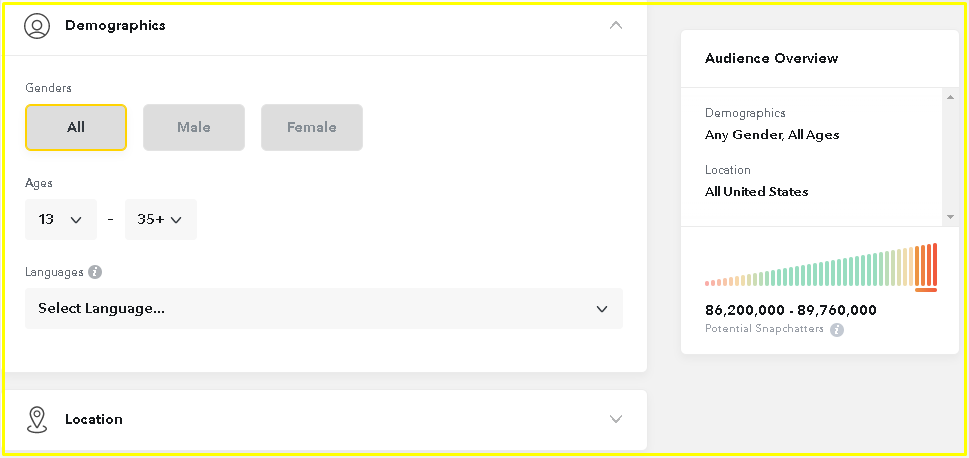 The more targeting options you select, the lower becomes your audience volume which is good if you're planning a strong campaign focusing on brand awareness.
If this targeting is not enough, you can click on "Show advanced targeting" and you will get far more options to set your preferred audience.
Add Advanced Targeting to Better Leads
This segment offers great customization of your Snapchat audience providing extensive options for hobbies, lifestyle, and habits. You can define the people you follow in the best possible way here. Most social media platforms allow picking the right people from a set of identifying features they have. Snapchat has interesting behavioral characteristics that you can see below: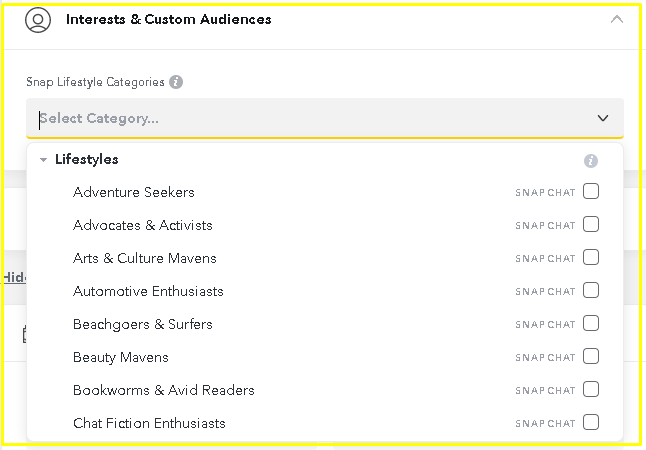 Set your budget and delivery of Snapchat Ads
Before the final step, there are a few things to be done. That is actually the most important as your Ads won't be running without it. Introduce your credit card which is going to be charged once the Ad is delivered.
You can set a random budget of at least $20 (it is an absolute minimum for Snapchat Ads). The smallest lifetime budget you can have is $140 accordingly. The campaign start and end dates may be fixed or indefinite.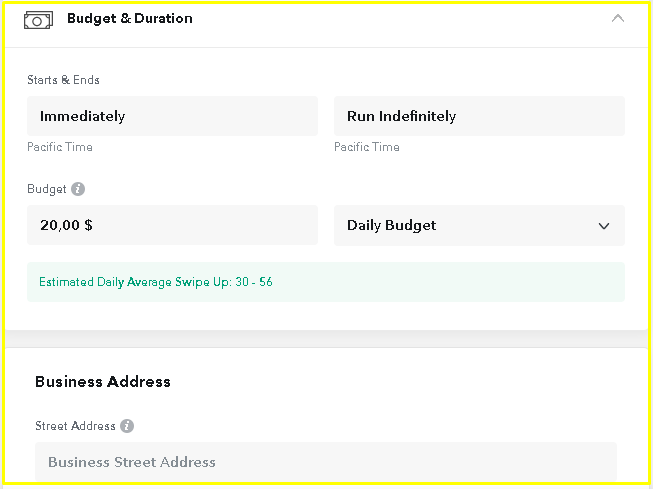 Finalize with adding your business address and publishing the Ad. After a few days of running and checking the statistics, you can get back and edit your Ad.