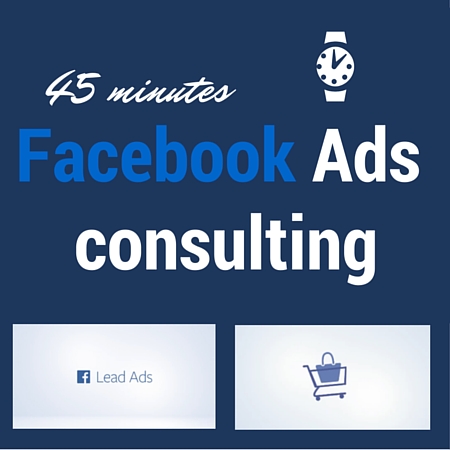 Facebook Ads Consulting
$1.00
Description
Facebook

Ads consulting/coaching – One on One
– 45 Minutes on
skype

/ google hangout

Find progressive online coaching from a newbie Basic Level to the Advanced Level. Learn how to target on Facebook to get a constant flow of visitors and potential customers. Facebook retargeting explained and made easier after this course.
Learn how to:
FB ads manager: you will know how to deal with Facebook campaigns and to run search and remarketing campaigns
FB editor: check how to adjust Facebook ads to allow the best performance for your campaign
FB business manager: monitor your ads schedule and prioritize them according to company business goals
Manage all FB ads types: learn about most common ad types and how to deal with them within Facebook interface
Facebook audience creation: manage retargeting audiences and implement them into existing campaigns
Set up Facebook pixels:
Learn everything from basic Pixel to event-based Pixel;
Study Facebook dynamic remarketing pixels to implement them in Facebook remarketing campaigns;
Pixels debugging.
Facebook Ads Reporting:
Advanced ROI-focused Facebook reporting: learn extensive metrics to provide detailed reports based on statistical FB data;
Ecommerce reporting : purchase data (including transaction data). Enable progressive ecommerce reports for all performing campaigns.
Learn Facebook Ads Type:
Dynamic remarketing ads: best option based on your product type and description pages. Learn how to setup Facebook retargeting in a few clicks.
Remarketing ads set up: ever wondered how to retarget on Facebook? Know more about tips and tricks that you can implement with recurring campaigns.
Facebook video ads: learn how to setup video campaigns on FB.
Facebook lead ads: find more about progressive FB tactics in order to promote your brand.
Facebook audience network ads: extensive information about networking with FB.
Check more options for ecommerce using FB ads.
Facebook ads strategy
Are you still looking the right ad types for your business? Learn how to do retargeting ads on Facebook and which tools to use for a more progressive strategy. Get any help with FB strategy by planning it gradually. It will allow the most successful results for your FB ads campaign.
Do you have Questions ?
You are welcome to contact me on skype or mail   (before you pay or after)
skype: tsvika.machluf
mail@tsvik.com
All counslations are in English (Fluent) or Hebrew.