Get More Customers with Cross-Device Remarketing & Google Signals
Tsvik
You may not believe but Google introduced new Google Analytics features that may double your quality traffic within just a few days! Do you remember how you were struggling to get more visitors to your webpage or an eCommerce store?
From now, Google helps you improving your traffic, user behavior statistics as well as provides a better remarketing strategy. All you need to do is to activate Google Signals and to start using cross-device tracking capabilities.
This option is new and coming to all users pretty soon although some users might already have it.
Why do you need Google Signals?
You can reinforce remarketing campaigns. When you launch the Google Signals option, you will get aggregated Analytics user data from multiple devices. Now you can use these audiences in all your cross-device remarketing campaigns.
The way you approach users is more personalized. From now, all data from different device types is accumulated in your statistics. Google Analytics builds behavioral reports based which users connected from the desktop, mobile or tablet. The reports are more user-focused than session-focused.
You get additional Google Analytics reports. Most of your GA reports (for example, Demographics and Interests) will get even more data after Google Signals are set.
What is cross-device targeting?
It is a brand-new GA feature that allows enhanced reporting and tracks users across various devices – mobile, tablet and desktop. From now, you can see how users interact from screens to screens within a great journey by getting to know your products better.
Advantages of cross-device reporting
You can see how the cross-device marketing campaigns influence traffic and user behavior. You will get insights on how to improve your ROI and get more value for the money you spend on marketing;
You can track the same user who browsed on your website from the desktop, mobile or tablet. Thus, these sessions will not be tracked separately as before. It will give you richer reports on when and where users interact with the page within the sales funnel.
Adjust marketing according to where your users access at every stage of interacting with the website. For example, the first brief interaction happens from mobile or tablet while the sales itself might come from the desktop.
Create smarter cross-device retargeting audiences. You can make up new audiences based on the number of times people access connecting from different devices. You can launch promotions on Google Ads and segment customers who spent a certain amount of money across all devices from where they visited your page. There are even more options of how it can work for you.
How to activate Google Signals?
Login to your Google Analytics account;
Go to Admin -> Property -> Tracking Info -> Data Collection;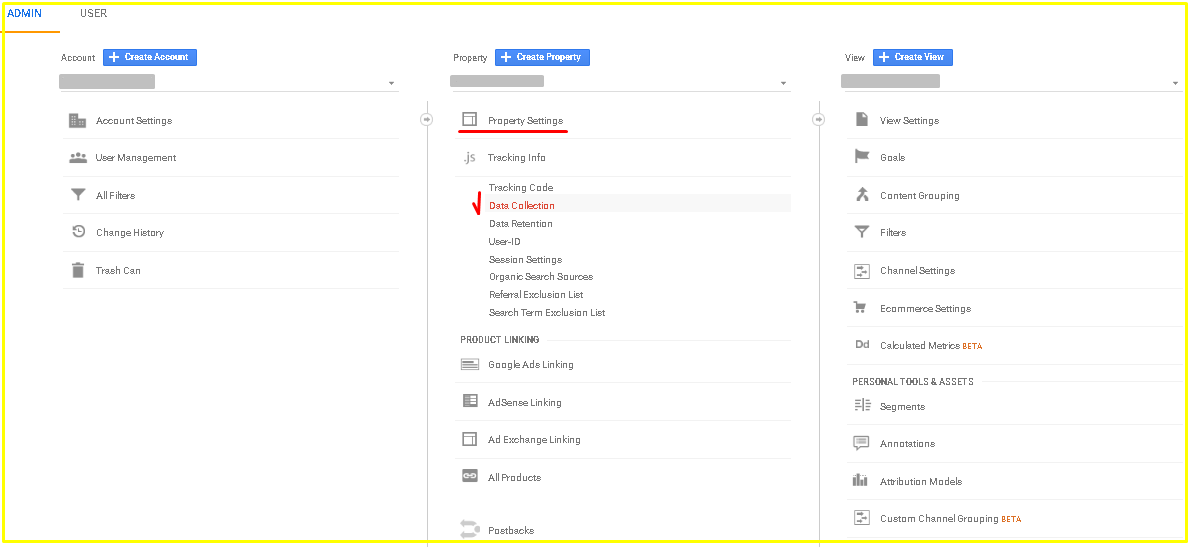 Read about Google Signals and Cross-Device platform features thoroughly;
Activate Google Signals by setting the blue prompt ON and press SAVE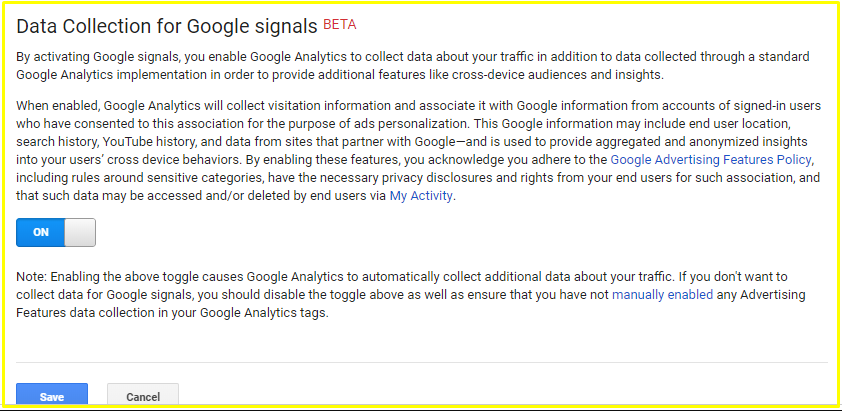 Summing up, here are the privileges you'll get:
Accurately counted number of users from all devices;
Better understanding of your users – a wiser strategy to follow;
Improved reporting, marketing and remarketing.
Don't hesitate to use Google Signals in your strategy as many companies already see the value of this new feature.