How to Improve your Brand Awareness with Pinterest Video Ads
Tsvik
Pinterest has approximately 150 million users per month which makes it one of the largest referral networks. Generally, it drives more traffic than Twitter and LinkedIn together. Pinterest traffic is optimized for search very well.
Another great advantage of Pinterest is that users are always ready to purchase. This channel has an impressive 90% of the buyer's intent that can't be compared with other networks.
Brand videos on Pinterest have been a hot trend since it appeared. More than half of Pinterest users admit that they prefer to watch videos about their favorite and new brands. It motivates them to buy and to plan their future purchases. Videos are a good explanative visualization that instigates people to take action.
Pinterest promoted videos first appeared in August 2016. At that time Pinterest advertising was quite recent and booming. With time, they acquired new features such as autoplay. It renders this type of advertising more appetizing and tempting to try for the business.
How to Start with Pinterest Video Ads
The process is fairly simple. All you need to do is to have an active Business account on Pinterest. Business account means that you use it to advertise your products or services. It looks like a personal one but it provides an option to set a campaign.
A personal account is easily convertible into a Pinterest business account. It is free and it does not require much time and effort. Once done, you are ready to promote a video account.
Please note that you have to complete the billing information on your account otherwise you will not see "Upload a video" button.
Navigate to the red plus in top right corner.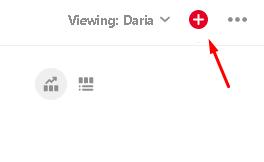 Don't forget:
use an awesome thumbnail for your new video;
add a description of up to 400 characters (it will only be seen when a user clicks on your pin to see it closely);
check your video technical characteristics;
attach the video pin to a board;
make sure it actually appeared in the selected board.
How to Create your First Video Campaign on Pinterest
Now it's time to set a complete campaign for running this video. First of all, you will need to set appropriate goals in order to make your campaign bring you the results you were expecting.
For video, good campaign goals would be brand awareness (through video) or video views.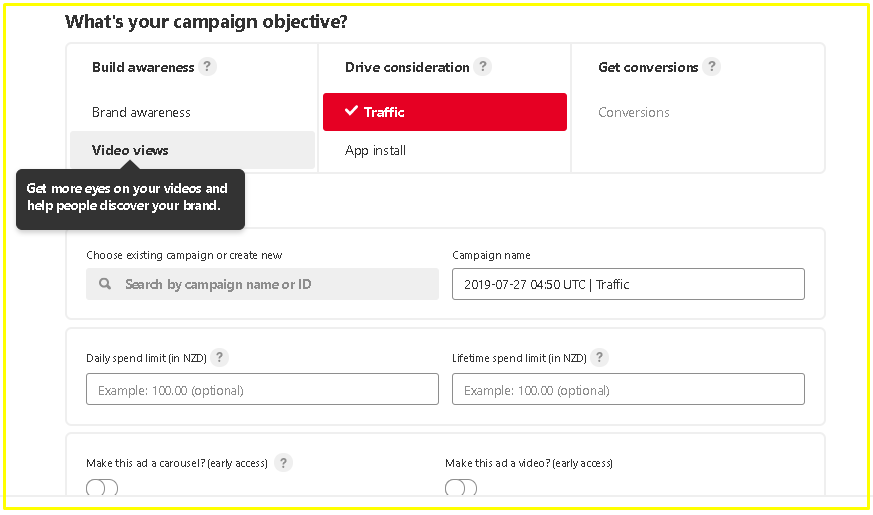 Once done, you will be forwarded on the next page. It is where you set the audience and pick an Ad group to work with. Try to specify your video audience in the most detailed way. It is how you will get the highest engagement rate.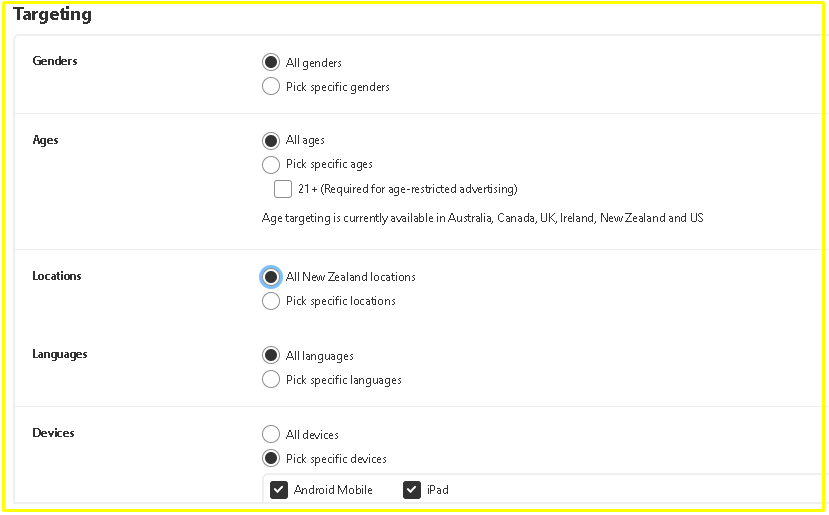 One of the most powerful ways to boost your engagement is to pick Interests/Hobbies as well as search for related keywords. Pinterest will help you with that.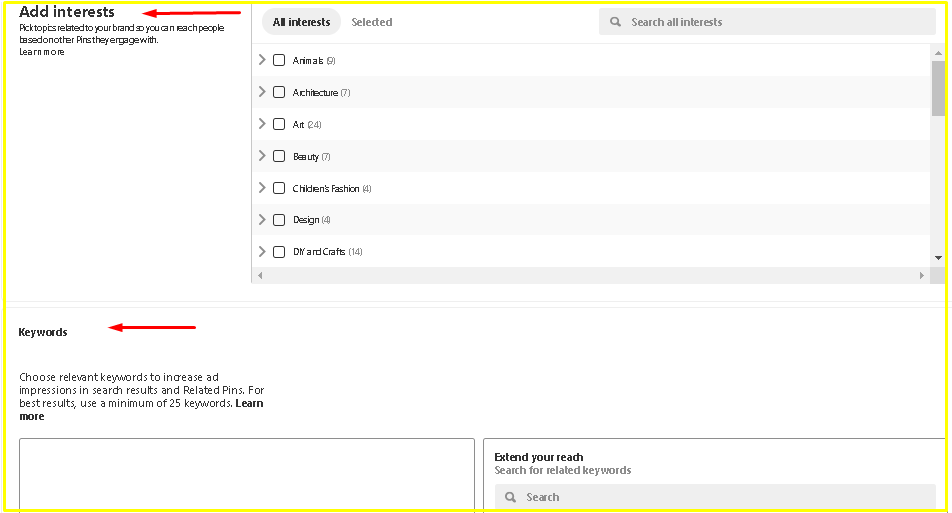 Of course, you will need to set a budget and delivery options at the end of the page.
Note! 
If you like to show video Ads to really specific people, choose or create your audience. Pinterest offers wonderful options for actalike and custom audiences for your campaign.
A visitor audience will gather your website visitors (using a special Pinterest Pixel);
A list of customers will be uploaded by yourself *if you have one;
The engagement audience is based on the interest to one or a few of your pins;
The actalike audience or similar audience is a group of people who act similarly to one of your website visitors groups or any group you pick. You can read more about setting actalike audience in this article.
Here's what it looks like on Pinterest when you set an audience for your video campaign: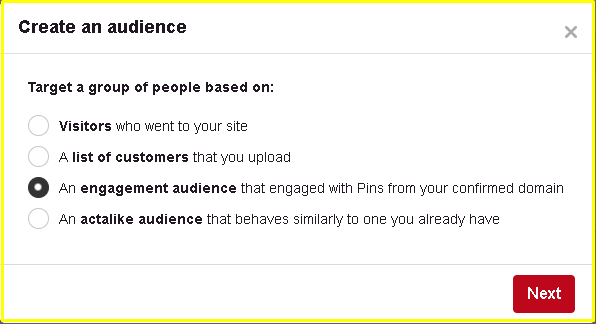 Once you've done all the settings, you will be prompted to a page where you can select your video Pin. Please specify all the necessary information before to launch your Pin. It is easy to start the campaign after that.
The campaign stats can be seen separately on your Pinterest Business Account in the Analytics tab.
Tips to boost video engagement
On Pinterest, Ads are being shown in a more favorable way than on other platforms like Facebook (where they interfere with the feed and make your experience annoying). Visitors coming to Pinterest are usually focusing on buying or planning to buy. It makes Ads more relevant and easily watched.
However, it is always good to be sure that your video Ads comply with user preferences and expectations. Here are some…
1. Length of the video
Short and well-designed videos is a must. It is nice to have most of the videos not over 15-30 seconds. This length is optimal for visitors to enjoy the video, get the most of the valuable information you provide and not be bored or annoyed as well as not lose the incentive to buy. Tutorials and how-to guides can be a bit longer than 30 seconds if required by the format. By the way, videos are allowed to be up to 30 minutes. 
2. Video format
According to various researches, vertical pins, as well as vertical videos, should be performing much better than others. It does not mean, you cannot use square videos. It is up to you as long as you know your audience. But the best aspect ratio on Pinterest is 9:16.
3. Make it super engaging
Video makers all over the network try to follow the same strategy in order for their videos to be watched. They say the first 30 seconds matter the most in a video. By focusing on the first part, you can drag your audience's attention. Explain what the video is about in the first few seconds of a video. Try to make logic stops after each chapter and resume or ask a question or put something that will arise attention.
4. High-quality video
It means not only video quality as it is but also the overall level of your video. The more professional and creative it is, the better it will be seen by your users. Elaborate your scripts, prepare the ultimate graphics and animation – make a perfect balance! Visually your video should outstand the others as it is all about visual content on Pinterest.
5. Storytelling and DIY work the best
People like to watch amazing pictures but they will be more captivated if you share a how-to guide or a DIY video. Explaining the process and storytelling make your videos the most competitive on Pinterest.
Conclusion
Now you're quite ready to work with your Pinterest video campaigns and to make the brilliant. Don't forget about video quality, perfect storytelling, adding a text snippet to your Pin and choosing a very detailed targeting. It is also important to do experiments on a weekly basis and to check your progress accordingly on Pinterest Analytics.